We wrapped up our dinosaur and fossil unit by writing nonfiction informational reports about a specific dinosaur. In order to do this, the students were paired up and assigned a dinosaur. They had to work together to research in our numerous dinosaur resources about their dinosaur and put this information on a graphic organizer. Then they had to work individually to write their rough draft. They met with Mrs. Riordan to edit and then they copied their final report. Finally they illustrated their reports. It was a challenging project for them but they worked certainly hard.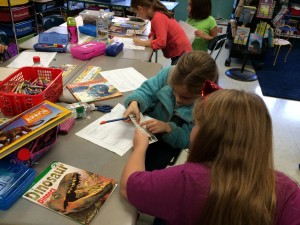 But October wasn't all work and no fun. We had a special visit from Ronald McDonald as part of our Community of Caring program.  
Finally, we finished October with Halloween. Our school was decorated like the movie the Wizard of Oz and our Principal, Ms. Smith along with most of the staff dressed up as the characters from the movie. It was an exciting day!