Cold February temperatures led to indoor recesses. Those February indoor recesses seem so far away now. Here's Shiloh sharing her k'nex creation made during indoor recess.
We congratulated Alexis for receiving her certificate for completing Addition on Xtramath!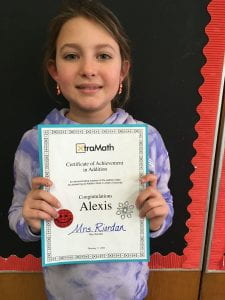 On February 13th, we celebrated 100 days of learning together!
Here the C8 students are proudly displaying their 100th Day of School certificates!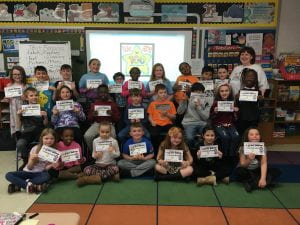 The next day, on February 14th, we celebrated Valentine's Day by exchanging valentines and eating yummy food. Here are the bags we used to exchange our valentines.
We did clay projects in art class using the pinch technique.
Mrs. Mullins chose some of our project for display in the lobby for the whole school community to see. The other projects were sent home with the students.
We did a unit in Geography unit in Social Studies. In this unit, we learned how to read maps and how to identify types of landforms and to locate the world's continents and oceans. The students worked on world map posters and landform posters.  Here are some photos of them working hard on these posters.
We sure had some fun times working and learning together in February!