Thank you to all the families who send in such yummy treats and other goodies for our party. Thank you to Hailey, Danielle, Ryan, Katie, Jayden, Salvatore, Gavin, Oorjaa, Cecily, Maggie and their families for making our party a big success. (I hope I didn't leave anyone out….I left the list of names at school.) Thank you also to Mrs. Rhodes and Mrs. Adams for helping with the party today! The Rhodes family donated the wooden ornaments for the children to decorate too. Katie's family donated Halloween erasers and I gave each child a Halloween pencil to keep at home for homework.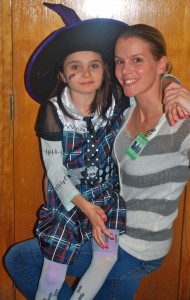 We were very excited that Kendra and her mom Renee were able to join us for our Halloween party! We hope Kendra had fun celebrating the holiday with us.
This morning we had a visit from Zero the Hero since it was the 40th day of school. This year, Zero challenges the students to a challenge….usually math related. We have never seen Zero…he's too tricky but he leaves us messages and treats!
Hope everyone had a Happy (and safe) Halloween!