November started with some storm postponed events. The morning of November 2nd, we had a special visitor named Chris Poulos. He is a champion BMX bike rider who demonstrated his tricks while he taught the students important lessons about listening, following directions, making friends and going for your dreams.
That afternoon we had our Halloween Party and Parade! Here's a photo of our C8 friends in their fabulous costumes!
The next day, Zero the Hero visited on Day 40. He got in the holiday spirit by leaving these little cuties as a treat!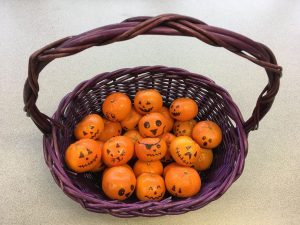 On Thursday, Mrs. Fisher, a kindergarten paraprofessional, who is a veteran of the army asked for a volunteer to wear her army gear to show the kindergarteners. Logan was a willing volunteer and looked great in the army clothes! After they were done in kindergarten, they came to our classroom. Mrs. Fisher taught our class so much about life in the army and the things she learned as a soldier. It was a great way to get ready for Veteran's Day! Thank you Logan for helping and special thanks to Mrs. Fisher for teaching us and for your service!
Finally today, Uriah was the very first student to finish the addition program on Xtramath! Congratulations Uriah! On to subtraction!!