The second grade students in C8 really had a good time creating ice castles on the Monday before vacation. Thank you to all the parents who sent in sugar cubes, frosting and candy to make this fun activity so successful. Thanks also go out to Mrs. Joyce, Mrs. Volpe and Mrs. Ware for helping us out by preparing the supplies and wrapping the masterpieces when they were completed.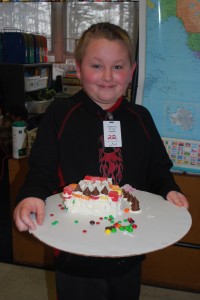 Special thanks goes to Alyssa's brother who gave up his first day of vacation from his school to help our second graders! The second grade boys especially liked having a big fifth grade boy helping them.  I will post photos of the ice castle masterpieces under the student work tab. I tried to get every child's ice castle but I missed a few because they were absent, dismissed, or managed to slip past me to the wrapping station without getting their photo taken.
Thank you to the generous families who donated food for our holiday party on Tuesday. It was both healthy and yummy! Finally I would like to thank all the students and their families who gave me a gift or a card. It meant so much to me that you thought of me at such a busy time of the year and I truly appreciate all the gifts.
While I am sad that vacation is coming to a close,  I look forward to seeing all the children tomorrow along with a new student that will be joining our class. Happy 2015 to you all and tell the kids that I'll see them bright and early tomorrow morning! (Don't forget to bring back your reading bag and your completed reading log!)