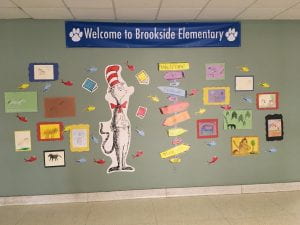 On Monday, March 2nd, we came together as a school to have a "Read Across America Assembly." Principal Smith welcomed community members and other special guests to our school and we took a reading oath to "make reading our way to feed our brains what they need every day!"
We were lucky to have TWO special guest readers. The first was school committee woman Allison Volpe. She read a newly published Dr. Seuss book called the "Horse Museum." 
Our second guest reader was Representative Colleen Garry (who is also Mrs. Riordan's sister). She read the story "Grace Goes to Washington", answered lots of questions and donated the book to our class.
We celebrated reading the rest of the week with spirit week.  On Monday, we dressed up in red, white and black for Dr. Seuss.
On Tuesday, some friends dressed up in their best Superhero outfits. 
On Wednesday, the students dressed up in outfits that showed us what they wanted to be when they grow up. Unfortunately, I forgot to take a photo of all the students who wore their outfits. Luckily, Tim was still there to take a photo of to represent this spirit day.
On Thursday, we celebrated by wearing our favorite hats. Here are our crazy, favorite hats. Alexis was out of the room so Calista is holding the hat Alexis wore.
We finished the week by dressing up as our favorite character. Here are Alexis, Calista and Alina on favorite character day.
This was a special week that I think Dr. Seuss would have enjoyed!