I can't believe we've been in school for 40 days already! The first two months have seemed to fly by so fast! I want to share with you some of the students that have been recognized for their reading and math achievements. First, we had three students, Emma, Jesse and Mia, that received special certificates for their participation in the Dracut Library's summer reading program! Great job to our three summer library readers!
Next, I'd like to recognize the five students who passed in their Dracut Public Schools summer reading logs. They were Sampson, Aubrey, Jesse, Shamus, and Emma! Summer reading is so important! Awesome job to you all!
Finally, three of our students have completed the addition level of Xtramath in record time! To do this, they had to be able successfully answer all 100 addition facts within 3 seconds for each fact! They are Kayden, Aubrey, and Jesse! They are officially Xtramath superstars and have moved to subtraction. Remember that the students can do Xtramath at home too if they have access to the Internet.  I wonder who will be our next Xtramath superstar?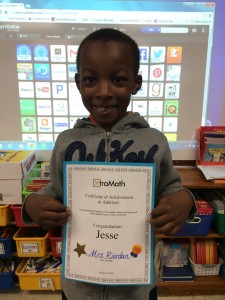 This year, a special math superhero called "Zero the Hero" has been visiting our classroom every tenth day of school. We're not sure if Zero is a boy or girl superhero so I'll just use the pronoun "he".  He gives the students a note with math challenges and leaves them treats if they complete the challenge. The first time he came, he asked them to draw what they thought he looked like. Another time he came, there was a math book about Zero that he asked them to have me read. A third time he came, the students were challenged to write as many sentences as they could that had the answer of zero. On Friday, Day 40, he challenged them to estimate the number of eyeballs in the jar! The children love when Zero visits.
Before I end this post, I want to thank all the families that donated to the Great Penny Race and the Food Drive. The second grade students donated the most nonperishable food to our food drive. Our class helped to box up all the food and carry it out to the volunteers from the food pantry that came to collect it. This is teaching our students to not only think about and care about others but to DO for others!  Stay tuned for additional posts about our field trip, our dinosaur & fossils studies and more!