On Tuesday, we were fortunate to have a special visitor, Mr. Berube, who came to talk to the children about Antarctica. Mr. Berube is a Dracut resident and a former Navy Seabee who spent time working and living in Antarctica when he was a young man. He showed the class a DVD about Antarctica. Then he showed photos that he took while he was in Antarctica and told the children about his experiences there. Then he brought out a number of artifacts from his time there from clothing to rock samples. He let the children touch these objects and patiently answered their questions. This was a great introduction to the next model curriculum unit on Animals and Habitats of Antarctica and the Arctic, which will combine social studies, science and language arts. Thank you Mr. Berube for visiting our second graders once again this year.
After our visit with Mr. Berube, our class went to physical education. When I went to pick them up after their class, I could hear them laughing and having a great time. I looked in the large doors and saw them playing a game I had never seen. Coach Rivers told me it is called scooter ball. They were having so much fun that I just had to take a photo to share with our C8 families. Physical education at its best! Nice job Coach Rivers!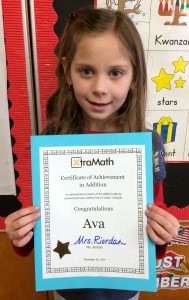 We have a new Xtramath Superstar! Congratulations to Ava S. for completing the Addition level of Xtramath and moving on to subtraction! We are all proud of you! I wonder who will be our next Xtramath award recipient.
Finally, as part of our Traditions and Customs unit, our class saw an educational video called Holidays for Children: Pow Wow. This video taught the children about Native Americans traditions and customs. One part of the video has a woman explaining step-by-step how to make a Hopi Native American kachina doll. Today, Mary and Mia surprised me by showing me that they had gone home and made their own kachina dolls. I was very impressed that these girls took the initiative to take what they had learned at school and make them at home.  I love it when students take ownership of their learning!  Proud of these creative young ladies!