Our students joined the other second grade classes in the cafeteria for the culminating activity for our Traditions and Customs unit which was a special feast on the early release day before Thanksgiving. They shared food made from recipes that reflected their family heritage. It was a tasty way to celebrate the diversity of our classroom. Thank you to all the families that sent in food for the feast and to our parent volunteer, Ms. Hibbard who assisted with the set up/clean up. Individual photos of the foods can be seen under the Student Work 18-19 tab.
We were fortunate to attend two assemblies with special guests. The first was Ann Biese, an author who wrote the book "Worry Bee" and spoke to us about how to handle our worries and emotions. The second was the performer, Johnny the K who played his guitar and wore crazy hats to teach us how to be kind and to get along with each other.
Safety is important so we practiced our bus evacuation drill. The upper grade students assisted us.
We have also had fire drills and Alice drills this year.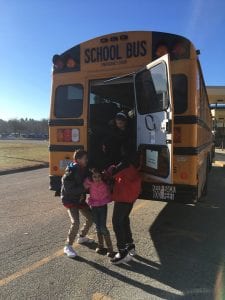 We had a visit from Zero the Hero who left a treat of latkes for completing his challenge.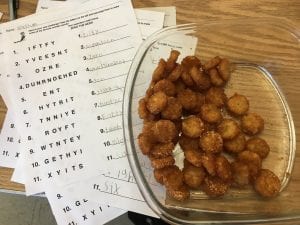 We also did some stations where the students worked on math and literacy skills with a holiday theme.
Before we headed off for the December holiday break, we made Ice Castles out of mini-marshmallows, frosting and lots of candy. Thank you to all the families who sent in the supplies and donated extra candy. Thank you to Ms. Allore, Ms. Hibbard and my daughter Catie for helping with the Ice Castle projects. Here is Sabella with her Ice Castle. More examples of their Ice Castle creations can be seen under the Student Work 18-19 tab.
We also made special snow globe ornaments that we sent home to share with their families. Here is a photo of some of these snow globes.
More to follow in Part 3!