We started off the month of March with our school-wide Read Across America event. This is a special day where important people from our community join us to share and celebrate reading!
But that wasn't the only special visitors we had this month! We had a PTO sponsored storyteller named Tony Toledo come to share his storytelling skills with us!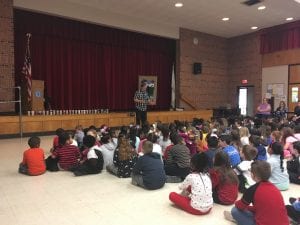 But the craziest visitors we had were from Ireland!
At first things were a little unusual. 
Then they got into even more mischief! Check it out!
We knew that we had to do something to stop the madness. Eight creative and resourceful children made leprechaun catchers to try to capture the little mischief makers. 
This is what we found on Monday morning March 18th! Those leprechauns not only weren't caught….they had made a real mess of our classroom AND had stolen from all the leprechauns catchers! And then on Monday afternoon, our school secretary, Mrs. Treska, called our classroom and said that she heard a tiny man's voice…and saw a small green hat… before he disappeared….leaving this for our class. And underneath the gold candies, we found all the things the leprechauns had stolen from the catchers!
Maybe they aren't so bad after all!