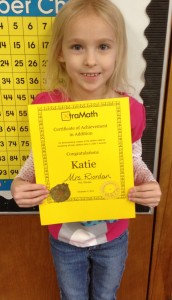 Congratulations to Katie L. for completing the addition level of Xtramath! She completed it last week and received her certificate today. Xtramath is a valuable tool for increasing the students' fluency with math facts which means knowing them instantly without having to stop to think about it or use a strategy (like counting on fingers) to get the answer. When the students know their math facts this well, it makes learning more challenging math concepts easier to learn.
I try to let every student have the opportunity to do Xtramath every day but that is not always possible for reasons such as the Internet access being unavailable or my needing the students to all be with me for certain lessons or tests. Some days we don't get everyone finished or if the Internet was down, no one gets it done at school. But that didn't stop Katie who would go on Xtramath at home instead…..even on the weekends! As you can see, all her hard work certainly paid off! On to subtraction for you Katie!!
But that's not all….Gavin L. just completed the addition level in class today! Hooray Gavin! He'll get his certificate tomorrow. I wonder who will be next!
Finally, a quick reminder before I end this post that the December Scholastic book orders are due on WEDNESDAY. You can order in with cash or check sent to school or online with a credit card.